Having a budget for interior design does not make you cheap – I truly believe that a budget is important whether you are spending $1,500 or $250,000+.
One of the first questions I often ask a new client is: 'Do you have a budget in mind?' 
The answer to this question differs from client to client, but the bottom line is being realistic in your renovation or re-design wishes is VERY important.
---
Where to start?
The best way to begin a budget is to break everything down. For me, budget success means dividing therenovation/construction costs and the design/furnishing costs.
Then the next step is to break down everything that needs to get done.
Renovation + Construction Budget
When breaking down renovation/construction costs, consider the different trades people you will need to do each task. Dividing items into categories such as Painting, Electrical, Carpentry, Dry-Wall, Tiling, Millwork and Plumbing.
A renovation/construction budget must take into account the jobs of all these trades, the time it takes to complete the design and the materials they need to purchase. Most homeowners call in a contractor to provide them with this portion of the design budget.
As you are not expected to know these things. One of the great parts about being involved with a designer is that they may be able to help you prepare for this portion of the design budget. I definitely like to be involved with my clients prior to the contractor being chosen as I find I can provide them with assistance in choosing a contractor and comparing quotes from different contractors with them.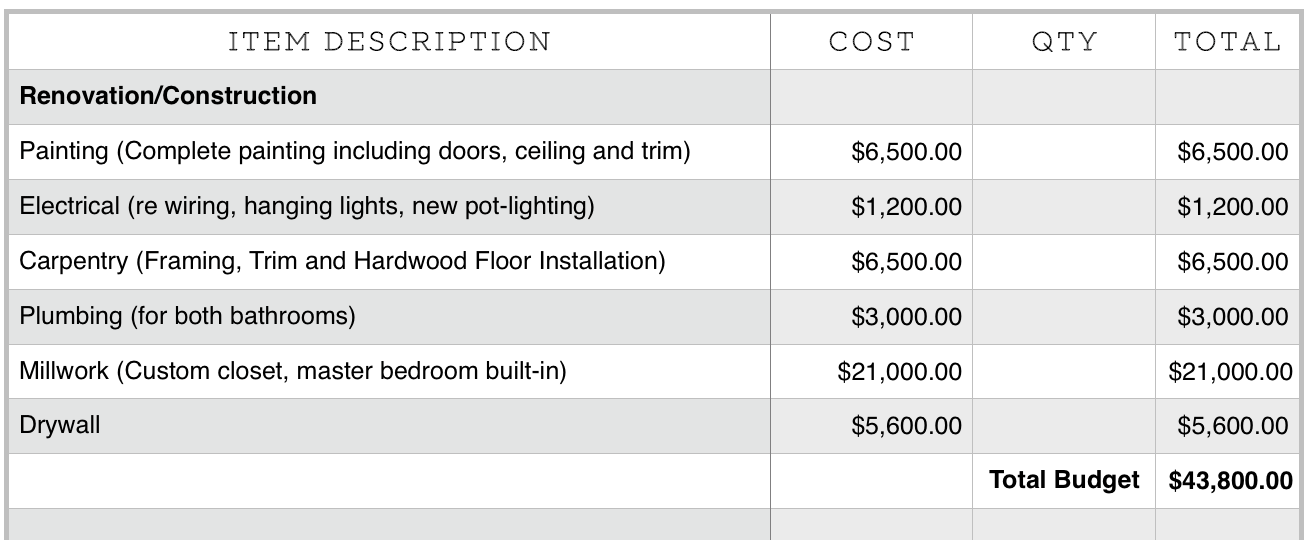 ---
TIP: Ask me about Construction 101 for more details on the stages of construction.
---
DESIGN + FURNISHING BUDGET
For the design/furnishing budget I like to break things down in terms of rooms. Master Bedroom, Living Room, Kitchen, Office, Guest Bedroom, Basement, Foyer, etc… Once these headings are broken down you need to think of EVERYTHING that you will need to purchase in addition to the renovation/construction costs to complete it. Just as examples:
Master Bedrooms: May need bed frames, mattresses, nightstands, dressers, table lamps, art, accessories, wardrobe, area carpet, bed linens, ceiling fixture, window coverings.
Offices: May need desks, task lighting, area carpets, desk chairs, guest chairs, bookshelves, ceiling lights/fans, window coverings, additional storage, desk organization accessories, accessories, art.
Kitchens: May need dining tables, dining chairs, ceiling fixture, organizational items, free-standing garbages, window coverings.
I always make sure I am as specific as possible when I am outlining what each room needs for my clients. Specifying whether it is a love seat, sofa or sectional or whether it is a ceiling fan or chandelier. I even like to specify the size of the area rug.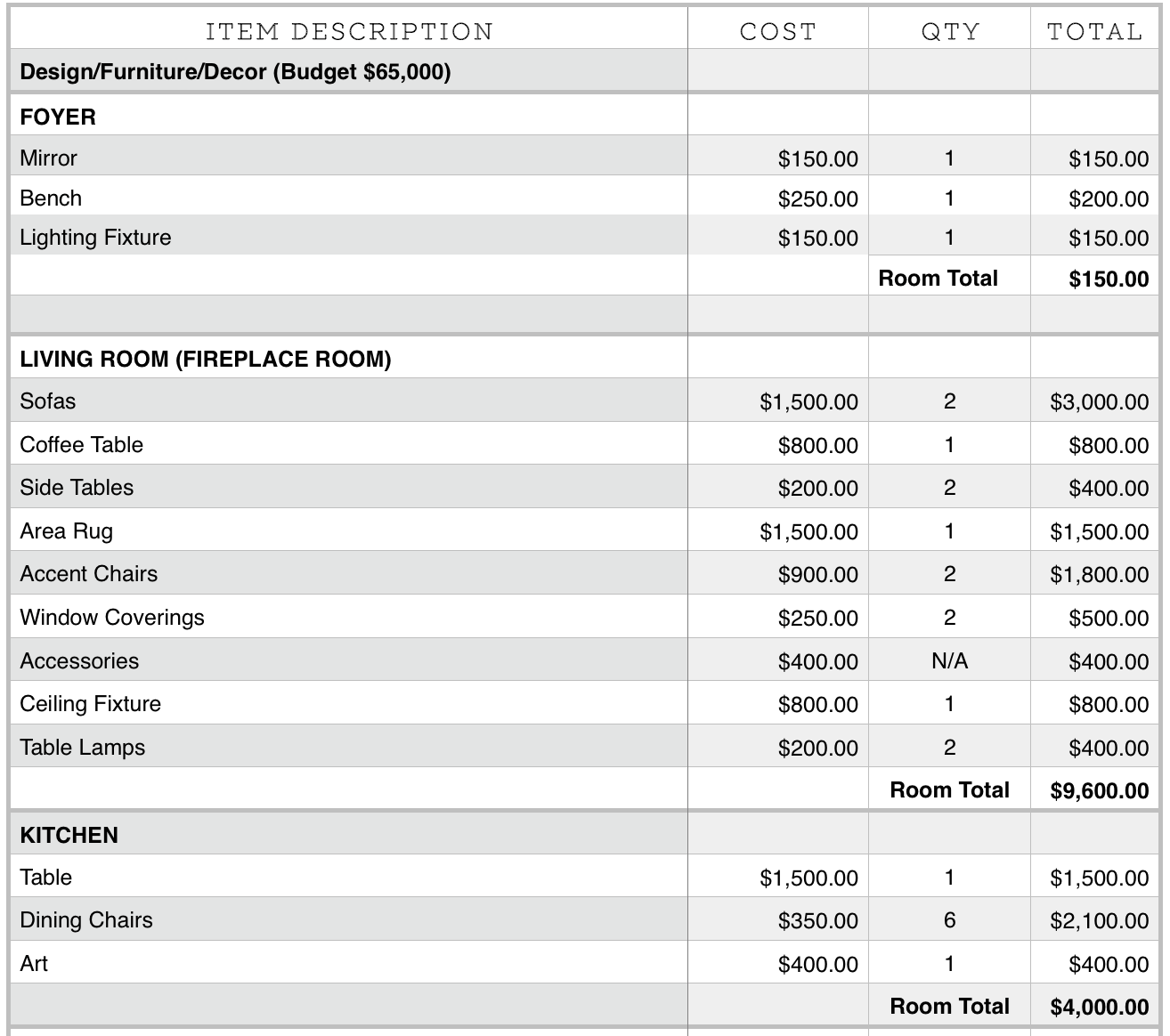 All I can say is that I cannot stress enough the importance of going into a renovation or re-design with a budget. There is never such thing as over preparation. Make use of your excel spreadsheet skills and start budgeting!!!