How We Work With Clients
At Joey Vogel Interior Design, the process we undertake with our clients in the Toronto & GTA is simple. Design is a series of steps that get us from today's 'A' to tomorrow's beautiful 'B'.
---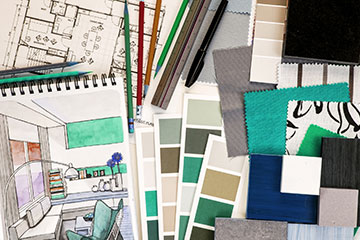 Step 1: The First Date
We begin all of our projects with a mandatory on-site design consultation. This is what we like to call the first date. It is during this consultation that we get a better understanding of your project as well as your overall needs and wants for the space. We also get to see the space, take preliminary photos and if necessary rough measurements. During the consultation you have time to ask any questions and really get a better understanding on how we work. The consultation can be anywhere from one hour to two depending on the size of the project.
DURATION: This stage usually takes between 1-2 weeks.
---
---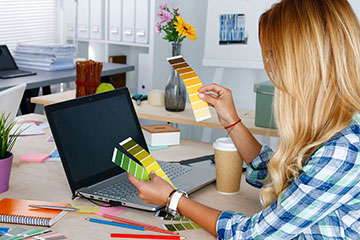 Step 2: Personalized Design Proposal 
After the consultation we return to our office and create a personalized design proposal for your project. Our proposals are very detailed and include look pages and visual drawings of what we are thinking as well as a broken down rough budget for your project. This usually takes 1 to 2 weeks depending on our availability and the scope of work required. Once we are finished we invite you to our office to review the proposal and go through our terms for the project and how we continue. (This portion of the process is complimentary, however if you decide to not move forward with the project and wish to keep the proposal, the proposal will have to be purchased at an additional cost) Please see examples of what our package includes below.
DURATION: This stage usually takes between 1-2 weeks.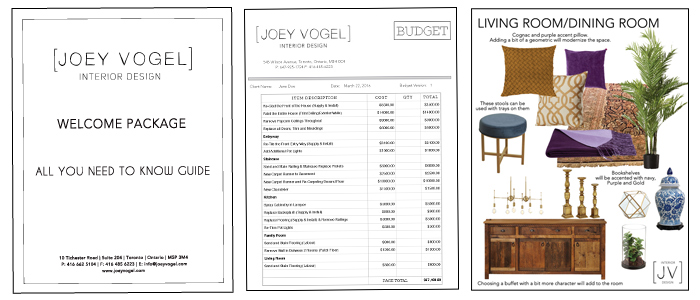 ---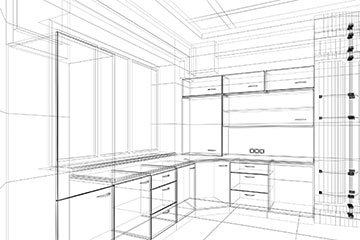 Step 3: Design Development 
Design development is where all the wheels start turning. We take the information we collected from you in the Programming phase and begin to construct a proposal for your space.
We develop furniture plans, lighting plans, millwork drawings, colour palettes, 3-D drawings and hammer out all the details of the design.
DURATION: This stage can take anywhere from 3 weeks to 4 months depending on the project size.
---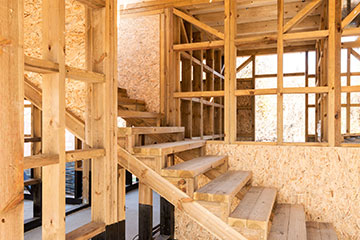 Step 4: Construction & Installation
This is often thought of as the most stressful stage for homeowners but we do our very best to alleviate that stress. At this point in the process everything should be ordered and begin arriving on site. The drawings should all be finalized with your stamp of approval. 
We hand off a very detailed design binder to your contractor and the trades skillfully create your dream design.
DURATION: The duration of this phase varies based on the specific design / build elements of your project.
---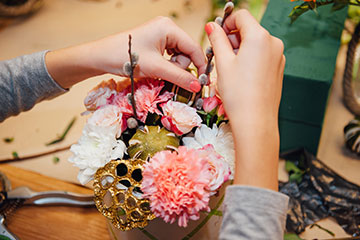 Step 5: Project Completion
They say that the last 10% always takes the longest, but we ensure that we will only leave you once you are absolutely thrilled with your space.