I love designing rooms for kids! I really still think I am a kid at heart. When designing for kids it is a completely different ball game than designing a kitchen. When designing for children's bedrooms in particular there are many things that often get overlooked. It is thrilling being able to give your child a great room, but there are so many aspects you need to consider when designing for kids.
1. Spend Wisely
It is VERY important to remember that kids grow up and they grow up quite fast. When it comes to spending on kid's bedrooms remember this. Yes, children's beds and race cars are cute but spending frivolously on childish items will only mean you will have to replace them. For a child's room I recommend investing in quality furniture that will take them through to university. You may think I am nuts but there are so many amazing bedroom sets that work for kids, teens and even, at a later date, the guest bedroom. 
Restoration Hardware Baby & Child :
I know it can be a pain in the butt, in Canada, to pay in U.S dollars but Restoration Hardware offers a wide selection of kid/teen and even adult friendly bedroom furniture. The quality of the items is wonderful and it will truly last the test of time. I just finished a "big boy" bedroom for a 4 year old moving into a "big boy" bed. I used Restoration Hardware Baby & Child's Kenwood Collection in a double bed. With options like matching trundles and safety rails Restoration Hardware has really thought it all out.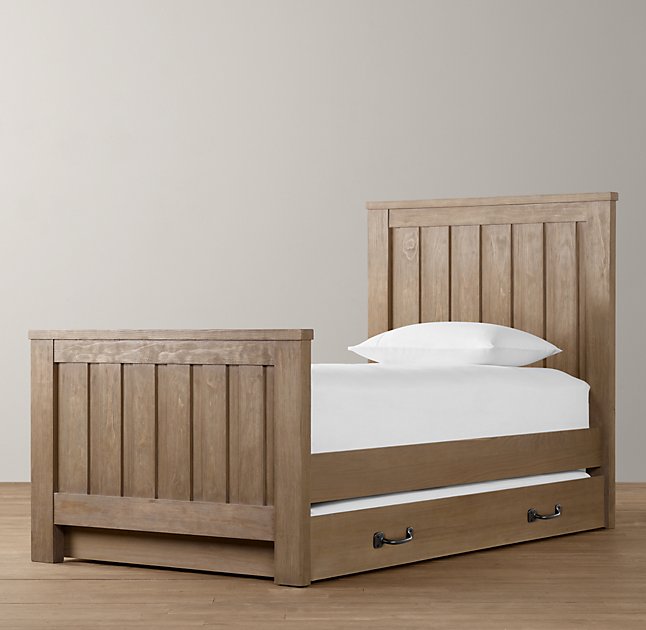 Children's Ikea
Children's Ikea is a great place to find some more kid-friendly bedroom items that don't cost an arm and a leg. I love the Sundvik child line for cute little play tables and chairs. Create a little creative corner for your young one to read, play and colour.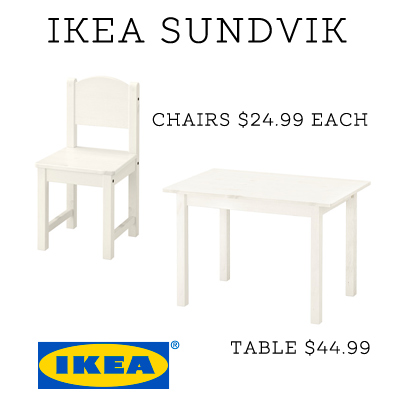 Pottery Barn Kids & Teens
Pottery Barn Kids is one of the greatest children's outfitters. With quality products and vast selection they make accessorizing any child's room very fun. I count on Pottery Barn for accessories that are fun and unique. With a wide selection of pin boards, creative wall decor and carpets they are my go-to for children's accessories.
Spending Rules
Spend on large quality items such as the bed, dresser, desk, carpet and window coverings 
Save on wall decor & accessories, allowing a simple transition as the child gets older
Have fun with kid or themed bedding and pillows 
2. The Power of the Bookshelf
As a child, I don't really remember if I loved to read but I do recall having tons of children's books. In every child's bedroom I do I make sure there is ample bookshelf space. Bookshelves are a great addition to a child's room for many reasons. The first is that children have a tendency to "collect" they save stuffed animals, figurines, art they bring home from school and sometimes even rocks lol. Having ample book shelf room for these items keeps them off the floor and surfaces and allows your child to proudly display them. 
Bookshelf Rules
Always secure the book shelf to the wall in a child's room, bookshelves are tall and with the weight of books can easily fall over.
Keep frequently used items at a reachable height for your child
Get creative because bookshelves do not only have to be for books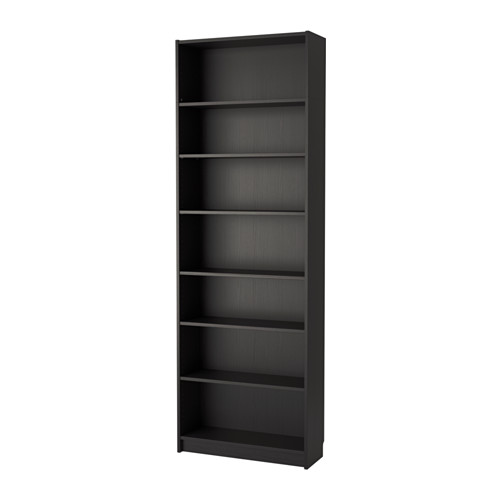 3. Fun & Themes
It is always a good idea to have some fun in a child's bedroom. Think about what the child is really in love with, for example for one bedroom I used airplanes as a theme. Now, I don't mean Thomas the Tank Engine or Sponge Bob I mean something that won't be quickly outgrown.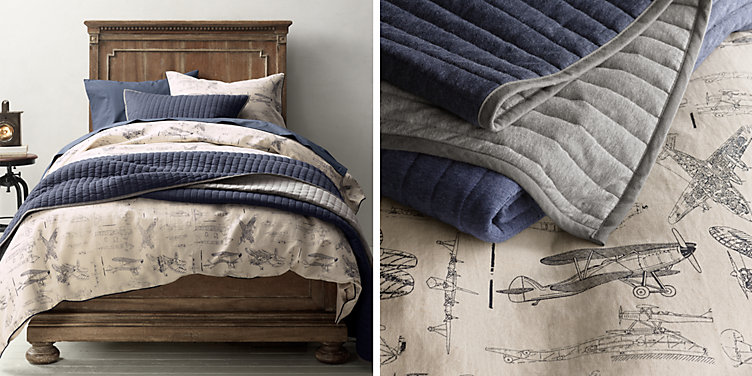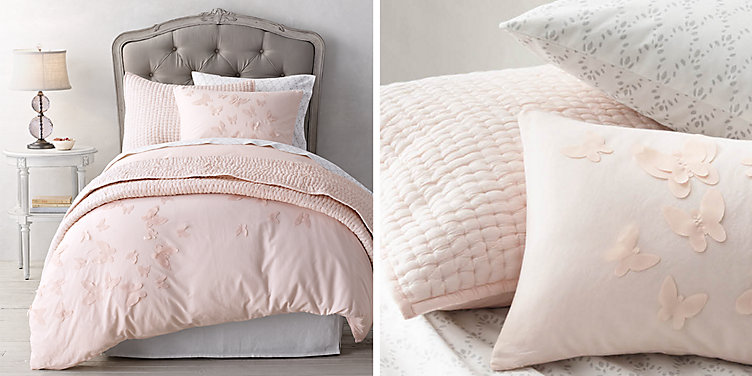 Bedding Rules
Avoid Characters, TV Shows, or Comic Book Themes, keep themes and bedding choices somewhat age neutral (avoid clowns at any cost!
Invest in quality linens but don't over-invest 
Duvet covers are preferred over comforters because they are simple and easy to wash
If you keep these things in mind when designing your child's bedroom you will create something you all can love!